Photographer ? Hired.
Pre-wedding shoot ? Date fixed.
Venue ? Oh! Oh!
In recent years, the concept of 'pre-wedding shoots' has come into light in India and has fascinated many couples all over the country a lot. It is a great way for the bride and the groom to know each other better ( in case of an arrange marriage ) or simply enjoy each other's company without the relatives lurking all over.
The photographs can either be taken at an exotic location or at a place that holds some memories for you. But it is not as easy as it sounds. Finding a location is the toughest job ( for some places, you even need to get permission). The best location ( that many photographers also suggest ) is usually the nature, as it gives the natural light and the aura for romantic pictures. Also, it is cost effective as no set has to be prepared.
Don't panic. We are here for your rescue. Here are some venues in and around Delhi for some amazing "in-love" clicks ( and that too within budget ).
Lodhi Art District
Location: Between Khanna Market and Mehar Chand Market
It is India's first open air public art district with amazing murals and installations at several places between these two markets. These breathtaking art interventions make a beautiful background for some 'arty-love' couple pictures.
---
Hauz Khas Fort and Lake
Location: Hauz Khas
Delhi has numerous historical monuments. For some vintage photographs, these make the best locations. The Hauz Khas Fort and Lake is a mixture of ruins and nature. It is one of the best locations for vintage and natural photographs at one place.
---
Deer Park
Location: Hauz Khas
A paradise for morning walkers also give the couples a private space for clicking some candid pictures. The trees, the picnic hut, deers and rabbits and the whole 'foresty' green look even gives the photographer amazing natural background for the pictures.
---
The Rail Museum
Location: Chanakyapuri
The rail heritage gives the couple an amazing opportunity to click those DDLJ pose pictures. Not only this, but it even gives a great background for some sophisticated pictures.
---
Lodhi Garden
Location: Lodhi road
This historical place representing both greenery and death ( tombs of rulers ) is both exciting and unpromising. The greenery and the lake create a beautiful exhilarating background for romantic pictures.
---
Okhla Bird Sanctuary

Location: Noida
What can be more romantic than watching birds? The sanctuary gives the most natural background for the candid pictures.
---
Garden of Five Senses
Location: Mehrauli-Badarpur road
This park inaugurated in 2003 not only answer to the need for leisure space but the serene environment gives people an atmosphere of relaxation. The natural background and the relaxing mood gives the perfect opportunity for photographers to click candids of the couple.
---
Humayun's Tomb
Location: Mathura road
Another historical place with its intricate design luring couples for some vintage photographs.
---
The Perfect Location
Location: Faridabad
The perfect location provides a variety of unique backgrounds, props and what not for fashion and couple shoots. Instead of going to different places, couples can get their whole shoot done in this place.
---
Safdarjung Tomb
Location: Delhi Race Club
As said earlier, Delhi is a place to many historical monuments. They provide a great background for the photographs.
---
Qutub Minar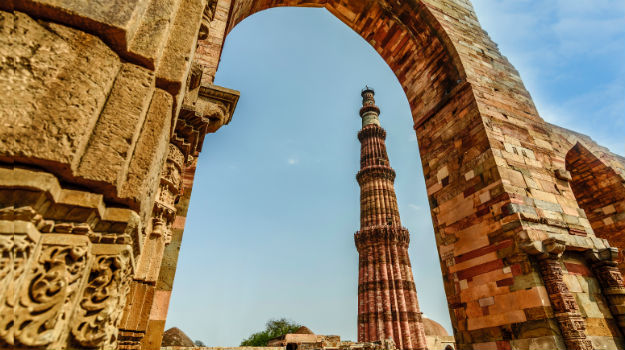 Location: Mehrauli
Again, another historical monument. The iron pillar, Qutub Minar, those green fields, those small hilltops provide  vintage as well as cozy environment for the couple photographs.
Yeah, we know, you want to get your shoot done today! Well then, Go, ahead.