Kolkata, an exotic city of West Bengal, located on the east bank of Hooghly river has its own historic significance. Let's us tour it together:
Points of Interest:
Howrah Bridge –
 Located just adjacent to Howrah Railway station is the iconic structure of Kolkata. It connects Howrah to Kolkata. The bridge was opened in 3 February 1943 for the public. However, it was renamed as Rabindra Setu on 14 June, 1965. The length of the bridge is about 705 m and it carries a daily traffic of approximately 100,000 vehicles. There is no charge or check point to pass through this bridge. Entry to this bridge is totally free on the both the ends of the bridge.
Victoria Memorial 
The second most important attraction that withdraws attention of every visitor is Victoria Memorial which is actually a large marble building constructed in the memory of Queen Victoria (1819-1901). This memorial Hall was built in 1921. However, the memorial has been transformed into Museum.
On Monday, the Museum remains closed and the entry is limited to its outside the building only.

Nearest Metro station to Victoria Memorial Hall is Maidan Metro which is hardly 1 km away from it.

Entry Ticket for entering in museum is Rs.20 per person.
Belur Math
Located about 6.4 kms north of Howrah railway station, this temple is headquarters of Ramkrishna Mission. Ramkrishna Paramhansa was actually the 'guru' of Swami Vivekananda. The temple is famous for its outstanding architecture. Just beside Belur Math, Swami Vivekananda temple is also established. Belur Math is located just beside Hooghly river. Regular bus services are available from Howrah railway station to Belur Math.
Dakshineshwar Kali Temple
A Hindu temple located about 11 kms north of Howrah railway station is dedicated 'Bhavatarini Kali'. Located on the bank of Hooghly river, this temple was built by Rani Rashmoni in the year 1855.
Read: Hot Water Spring in West Bengal which has Medicinal Properties
Regular Ferry of municipal corporation runs from Belur Math Ferry Depot to Dakshineshwar Ferry Depot which will charge you about Rs.10 per person.  
Science City
Opened in 1997, this Park is the largest science center in the Indian subcontinent. It attracts a large number of visitors every year to witness science and technology deeper inside. Regular shows like 'Science on a Sphere', 'Space Theatre', '3D Theater', 'Time Machine' run inside Science city which have nominal fares.
The entry fee of Science City is Rs.40 per person.

Science City remains open all days of the week from 9 AM to 8 PM.

Regular buses are available to reach Science City Bus stop.
Nicco Park
An amusement park located in the Salt Lake City area of Kolkata, is located just about 5 km north of Science City. The park is big enough, so you can spend entire day here with your family. There is something for each member of your family, Toy Train, Family Carousal, Cable Car, Roller Coaster, River Cave, Paddle Boat, Sky Diver Ride, Water Chute, Pirate Ship, Flying Saucer, etc. are among the popular rides.
The entry fee of Nicco Park is around Rs.200 (per head) which includes 11 free rides.

If you wish to get entry to Main Park Package, then its cost is around Rs.400 per head.

The park opens at 10:30 AM and closes at 8 PM everyday.

Entry is prohibited after 5 PM.

Regular Bus services are available for Nicco Park Bus stop.
Zoological Garden Alipore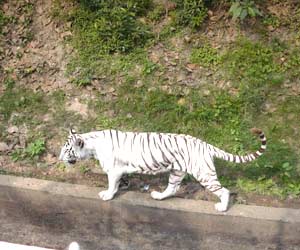 Opened in 1876, this Zoo attracts millions of visitors every year. Spread over 46.5 acres of area, there are about 1266 animals of 108 species. Located just 1.5 km from famous Victoria Memorial, this zoo is visited mostly by tourists during winters.
The entry fee of Zoo is Rs.20 per person.

Regular buses are available for reaching Alipur Zoo Bus Stop.
What you should definitely eat here:
'Kathi Roll' which is actually a fried paratha packed with fried egg, spicy meats, onions and chillis is one of the famous dish here. The price starts from Rs.15 and can go upto Rs.200 depending upon the ingredients of Kathi roll. You can find many food stores of Kathi Roll at Dharamtala Market.
Where to stay:
In Kolkata, you can choose from a variety of hotels, depending on your budget. For your family, you can get Double rooms from Rs.1000 to Rs.2000 in the following hotels:
Tulip Guest House, Salt Lake City

Eastern Plaza, Raghunathpur

Emerald Residency, Salt Lake City

Shila International, Acharya Jagadish Chandra Bose Road

Chowringhee Hotel, Dharamtala
How to Reach Kolkata:
By Train:

Howrah railway station is well connected to all major railway stations of India.

By Air:

Netaji Subhas Chandra Bose International Airport has regular flights to all the major airports within and across India.

By Bus:

WBSTC Buses have proper connectivity in all the districts of West Bengal, including its nearby states.
Additional Interesting facts:
Kolkata is the only city which has every kind of transport modes properly functioning in the city. Trains, planes, Buses, Trams, Hand-pulled carts, Ferry, Metro, Taxis, Cabs, Local Trains are all functioning smoothly here. So, once you visit Kolkata, take a ride of Tram surely because you won't find Tram anywhere else in India.
Major Internet based taxi-cabs like Uber, Olacabs are functioning in Kolkata. So, you can use them in case you face difficulty in using public mode of transport. Also, yellow ambassador based taxis are also good option other than public buses.
Taking selfies and photographs is prohibited inside Metro and Metro stations, so avoid doing this to stay away from penalties.
An International Cricket stadium 'Eden Gardens' is located in Esplanade. If you love cricket, then you can have a great time here.
You will rarely find 'Hindi' written content at public areas. If you are familiar with English then you won't feel panic as most of the content is written in regional Bengali language here.
Budget: Rs.4000 per head including food, sightseeing, night stay, transport
PS: This trip was taken in January 2017.
Read: The remnants of Rani LaxmiBai resides in this place