Delhi, the capital of India is sprawled over the northen part of India. It is a perfect amalgamation of the rich Mughal heritage as well as new-fangled metropolis. Delhi encompasses the magnificence of its culture in old city where as New Delhi is a bustling city built as the capital.
Best time to visit: Delhi has extreme climatic conditions. The best time to visit is from October to March as you can experience the cold of north.
Budget: INR 5000- 6000 for 3 days 2 nights.
Places to visit
There are ample of places of interest so you need to plan your itinerary carefully depending on the number of days of your stay and the places you want to visit. Here are few attractions to bewitch your attention.
Rashtrapati Bhavan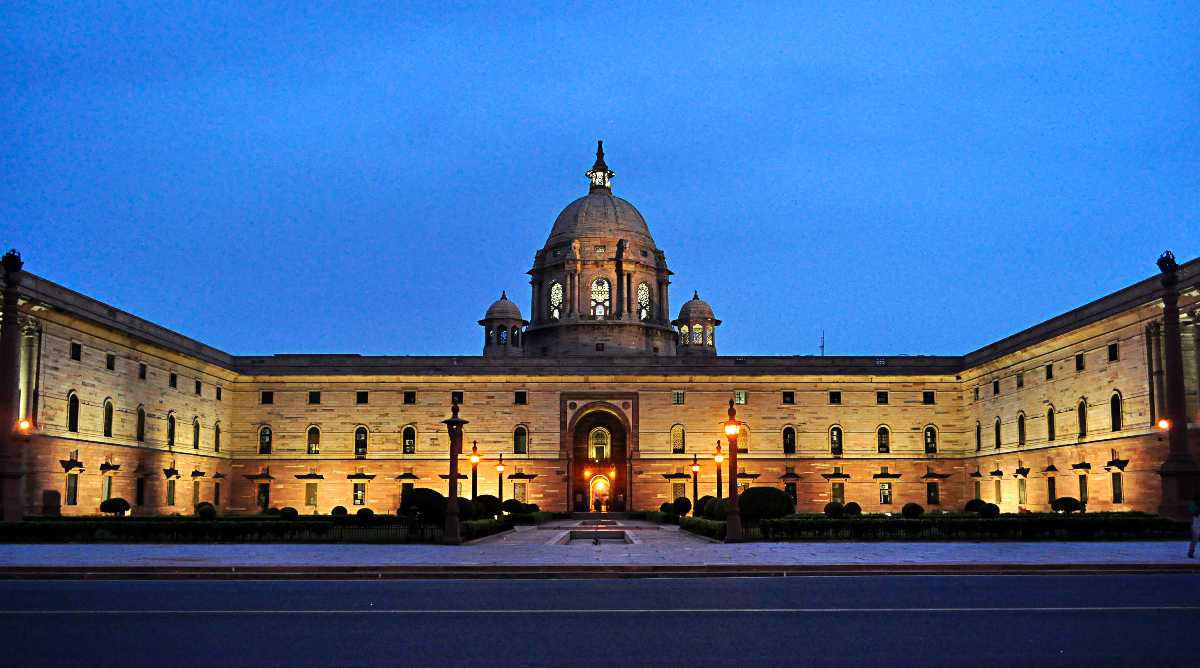 It is the residence of the 1st citizen of India. It has 340 rooms spread over 4 floors with long arcades and a beautiful garden with abundant species of flowers. This place houses the  Rashtrapati Bhavan Museum Complex (RBMC) comprising the Clock Tower, the Stables and the Garages showcasing past as well as current presidencies, the regal ceremonies amongst other things.
Opening hours :
Circuit 1: Rashtrapati Bhavan Main Building and the Central Lawn is open on Fridays, Saturdays and Sundays.
Circuit 2: The Rashtrapati Bhavan Museum Complex [RBMC] comprising the Clock Tower, the Stables and the Garages is open on all days except Monday.
Circuit 3: The Mughal Gardens and other Gardens of Rashtrapati Bhavan is open from August to March on Fridays, Saturdays and Sundays.
Timing will be from 9 AM to 4 PM.
Entry : Rs.50
For booking click here : https://presidentofindia.gov.in/rbvisit/rb-visit_booking_status.aspx
---
India gate :
After Rashtrapati Bhavan explore through the lanes of Rajpat and take a look at the marvellous India Gate built as a memorial to the 70000 soldiers who lost their life in world war I. This place dazzles at night with its luminosity. You can also see the Parliament house from outside which is on Rajpat road.
Entry : free
Opening hours : all day
---
Gurudwara Bangla Sahib :
A famous house of worship for the Sikhs, this gurudwara is said to have a water tank the water of which has healing properties. Devouts throughout the country visit this place.
Opening hours : all days
Entry : free
---
Red fort
Also known as Lal Quila this fort is an architectural stunner evocating the tourists. It is largest monument in Delhi and was built by Shah Jahan who also built the Taj Mahal. As the name says this structure is completely built with red stones.
Opening Hours: 9:30AM to 4:30PM (except Monday)
Entry Fee: Rs.10
Entry Fee for Sound and Light Show: Rs.50
---
Rajghat
This is a memorial of Mahatma Gandhiji's where his last rites were carried out.
Opening hours : 10am to 6pm
Entry : free
---
Humayun's tomb :
Declared as a world heritage site, this was the 1st garden tomb to be ever built in the Indian subcontinent by Humayun's wife. It depicts a coalesce of Mughal and Persian architecture which took 8 years and 1.5 billion to build this.
Entry : Rs.55
Entry fee for Children below 3 Years & Senior Citizen is free.
Entry fee for Sound and Light Show : Rs.25
Camera fee : Rs.25
Opening Hours: 10AM to 7PM
---
Lotus temple

This temple of Bahai faith was built by a Canadian architect and is a symbol of nirvana. It has 27 lotus petals made of white marble merged symmetrically. There are pools and lawns surrounding the temple.
Opening hours : 9am to 7pm (summers) ; 9.30am to 5.30 pm (winters)
Entry : free
---
Qutub Minar
It is the tallest tower in the world built with red bricks and sandstones. This 5 storeyed tower delineates Indo-Islamic Afghani architecture. It encases the Quwwat ul-Islam Mosque, the Alai Gate, the Alai Minar, the Iron pillar and the tombs of Iltutmish, Alauddin Khilji and Imam Zamin, surrounded by Jain temple ruins in its complex. An adjacent complex has  Jamali Kamali mosque, Quli Khan's tomb, Rajon ki Baoli, Madhi Masjid and more attractions.
Entry: Rs.10
Camera fee : Rs.25
Opening hours : 6am to 6pm
---
Jantar Mantar
It is one of the oldest astronomical observatories in the world. It comprises of fourteen geometric devices used for measuring time, forecasting weather changes, predicting behaviour of planets and finding extraterrestrial altitude.
Opening hours : sunrise to sunset
Entry : Rs.5
You May Also Like: 11 Destinations in Delhi for a pre-wedding shoot
A short stroll from Jantar Mantar, off Hailey Road, is Agrasen ki Baoli, a 14thcentury 60m long step-well.
---
Akshardham temple
This temple embodies ancient Indian culture in all its astounding grandeur. There is an amazing musical fountain show that depicts the cycle of birth, life, and death as described in Indian philosophy. It houses Garden of India a sixty acres area with lush lawns and exquisite bronze statues, honouring India's child heroes, valorous warriors, national patriots and great women personalities who inspire values and character.
Opening hours : 9.30am to 6.30pm (Mondays closed)
Entry : free
Also there are 3 exhibitions namely Sahajanand darshan, neelkanth darshan and sakskruti darshan including a boat ride which takes you through ancient indian culture.

Exhibition timings : 10am to 8pm
Tickets : Rs 170 (adults), Rs125 (senior citizens),  Rs 100 (age 4-11)
*prices are inclusive of all3 exhibitions.

Sahajanand Water Show
Timings : 7pm (tues to fri), 6.30pm and 7pm (Saturday, Sunday and other holidays)
Run time : 24mins
Entry : Rs.80 (adults and senior citizens) Rs.50 (children from 4 to 11 years)
Free entry for Children below 4 years

Musical  Water Show

Timings: 7 pm onwards, except on Mondays
Tickets : Rs.30 (adults and senior citizens), Rs.2 ( children from 4 to 11 years)
Note: Photography is strictly prohibited inside the temple.
---
Food guide
Delhi is famous for its golgappe, papdi chaat,chole bhature and rajma chawal. Sweets like Jalebis, Sohan Halwa and Pinni are a speciality if Delhi.
Connaught Place in New Delhi is a paradise for speciality and multi-cuisine restaurants and fast-food joints. You can head here after visiting Rashtrapati Bhavan.
Connaught place's claim to fame is the Chuski ice paan or the fire paan.
Location: Yamu's Panchayat, Connaught Place, Outter Circle
Price: Rs 40 to Rs 250
Timings: 11am -12.30am
At Chandni Chowk in Old Delhi you can relish street food including the specialities mentioned above. There is also an alley called Paranthewali Gali, popular for deep-fried, delicious Paranthas. You can savour the best lassi in town here.
---
Shopping
Chandani Chowk and Connaught place are the oldest shopping centres. You collect souvenirs from the Central Cottage Industries Emporium or the Emporia Complex near Connaught Place.
Trendy designer wears are available at Sarojini and Janpath at jawdropping rates.
Delhi haat is a one stop destination showcasing art, craft, food and music. Elegant handicrafts, bags, mojris, jewellery can be bought here. It is located at Janakpuri, Pitampura and also INA. Definitely try the delicious momos and kebebs here.
---
How to reach
Nearest airport : Indira Gandhi International Airport at New Delhi.
Main railway stations : New Delhi Railway Station, Old Delhi Railway Station and Hazrat Nizamuddin Railway Station.
Train tickets to Delhi range from Rs.580 for sleeper class to Rs.1500 and above for 3rd tier ac. It takes 18 hrs from Mumbai approx. to reach Delhi by train.
Local transport : Delhi is well connected by metros. Also one can take autos or hire a taxi.
---
Accommodation
It has a wide range of accommodation available from deluxe luxury hotels, with top-notch restaurants to moderately priced hotels and guest houses offering good services and a comfortable stay, down to economical tourist lodges. There are a few Tourist Hostels, Working women's Hostels, Service Apartments, Camping Sites and Dharmashalas as well.
Delhi with its veritable traffic and pollution can be besetting but if you glance beyond this you will uncover the true regalia of this city.