Allahabad is among the largest cities in Uttar Pradesh . Formerly called Prayag as Lord Brahma chose a land on earth were 3 rivers would meet. The city had always been the centre of Indian history. From the evidences of Mahabharata, Emperor Akbar declaring it to be waterway landmark in north India to independence struggle movements  and the birth place of Jawaharlal Nehru, Allahabad is the true mixture of culture, history and religion of India.
Best time to visit: Allahabad in rainy season receives heavy rainfall . From July till September is the most recommended time as the temperature varies between 35 degree Celsius and to 25 degrees Celsius.
The main Attractions:
Kumbh Mela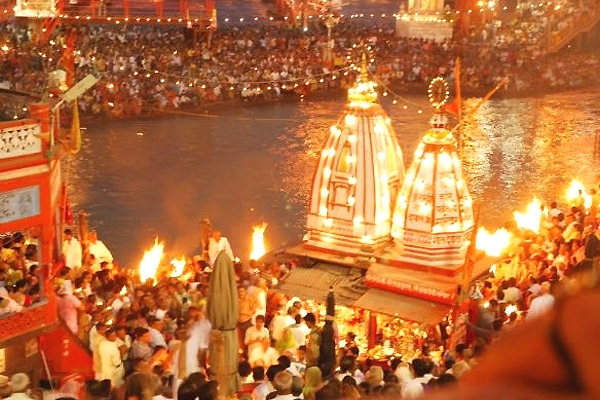 The largest fair of hindu culture organized once in twelve years . Fair witnesses the largest gathering of population and lakhs of hindu priest in red clothes and long hairs and people having baths in the holy rivers Ganga and Yamuna. It's the most divine time of one's life with beauty of religion spread in every inch.
---
Sangam
The heart of Allahabad is the place were 3 rivers namely Ganga , Yamuna , and mythical Saraswati which is believed to be flowing beneath the surface meet up. According to hindu rituals, a person becomes purified after having holy dip here and all his problems flys away. The place in itself is a wonder of nature  as Yamuna which is dark in color and Ganga which is light yellow in color mixes up here. You can hire a boat to go to the main meeting  point of these 3 rivers.  Magh Mela is organized annually on January-February and millions visit to take holy dip at Sangam.
---
Places to visit:
Anand Bhawan
The home of India's first Prime minister Mr. Jawaharlal Nehru and family, now turned into a museum showcasing the personal belonging of the family. Beautifully maintained, it will take you back to the 1900's era.
Timing-9:30 A.M. to 5:30 P.M. and Monday closed.
Ticket-Rs 5 per person.
---
Allahbad Fort
The biggest fort built by Emperor  Akbar in 1583. The royal fort is famous for its massive wall with river Yamuna guarding it from the back side. It's the perfect example of medieval India's architecture. Presently the fort is undertaken by Indian Army, only few portion are available for tourists. One can take boat-ride around the fort which cost RS 200. For visiting the whole fort, army permission is required.
Timing-7:00 A.M. to 6:00 P.M.
Ticket-No entry fees.
---
Khusro Bagh
It's the tomb of Khusro , the elder brother of Shah Jahan. He was murdered  by Shah Jahan in 1615 and it took around 7 years for completion of the tomb. The place is also famous for its 'allahabadi guavas', mughal architecture and walking in the lush green gardens .
Timing-8:00 A.M. to 8:00 P.M.
Ticket-Free.
---
Yamuna Watersports
Various water sports like Skiling , para-sailing, wind surfing and shallow water driving is enjoyed at waters of Yamuna. It has been organized by Allahabad boat club.
Timing-All day long.
Ticket-Depends on the activities.
---
Lete Hanuman Ji Ka Mandir
The only temple in India where you will findHanuman Ji, a God of hindu mythology lying on ground.
---
What and Where to Eat
Hari Ke Samose – Located Loknath Chowk, the shop is famous for its " aloo less samose". One can buy it per kg which lasts for months, or have a small byte per plate price of Rs 10-15. Legacy of the shop is so old that even India's first President Mr. Lal Bahadur Shastri used to vist the shop .The dal moth and Khatta chana are some of the specialty of the shop.
Nirala Mishthan Bhandar – Located at Loknath chock, is an iconic and legendary sweet shop in the region. The aloo ke tikki  are made of pure desi ghee and served along with fried aloo ,chutney and curd .People from different part of city just comes to enjoy the delicious tikki . The shop is also famous for its "kali Gaajar ka halwa"-the black halwa and moti choor ke ladoo .
Raja Ram Lassi Wala- The shop declared themselves as the world's number one lassi and milk product sweet sellers. Located at Loknath chock ,the shop will truly engulf you to sweetness of the city. The best way to end a long day after travel is this place.
---
Souveniers you can bring home:
Guavas are best bought in winters. The red –spootted guavas available in plenty are a major attraction.
The weeding sehras ,prayer booklets are best to buy from chowk area.
---
How to reach:
By Flight-Bamrauli Airport(IXD) ,15 km away is the nearest airport well connected to major cities of country via regular flights. Taxis can be hired from the airports.
By Train– You can easily get trains to Allahabad from major cities of the country as Allahabad junction is the headquarters of North Railway Central Zone and one of the main railway junctions of  India.
By Bus– There are numbers of private and state-owned buses which offers comfortable journey .You can book your ticket brought up government website i.e. www.upsrtconline.co.in
---
Where to stay-
Hotel  Kanha  Shyam-Located at civil lines, one of the best rated hotels  with award winning facilities . It cost around RS 6000 per room on 24 hrs bases.
Hotel Ajay International– Located near railway station with excellent services and includes all basic facilities. It cost around Rs 5000 per room on 24 hrs bases.
Dharmshalas- Various Dharmshalas are available at negligible charges in old city. Daraganj and Kydganj have plenty of Dharmshaalas which are freely available.
Guest House Bungalow- located at lohia marg, civil lines with fully furnished rooms having all modern facilities for comfortable stay. It cost around  RS 1500 on 24 hrs bases.
---
Tips for travel:
Beware of the auto rickshaw  drivers as they will ask you high price for travelling and be ready to haggle with them as it is the best means of transport.
One can book "Allahabad city tour by bus" organized by IRCTC TOURISIM with Rs 1050 per head . You can book it through link- http://www.irctctourism.com/TourPackages/RailTour/Allahabad-City-Tour.html
Best way to cover city is by local government buses but it is time consuming still affordable
Allahabad can easily be covered in 3 days so plan your trip and bookings  according to it..
Budget- Around  3k-4k per head  for a three day tour and largely depends on the choice of hotel.
Read: What's more in Agra than Taj