Developed by Ahmadshah Badshah in the 15th century, this magical city is rapidly growing and developing. With Sabarmati river at its heart, this city is a witness to many eras and experiences. The warmth and love this city and its people provide are welcoming, making you instantly jovial. Gujratis are known for being joyful and happy and this city certainly depicts this.
Places to Visit:
Sabarmati Ashram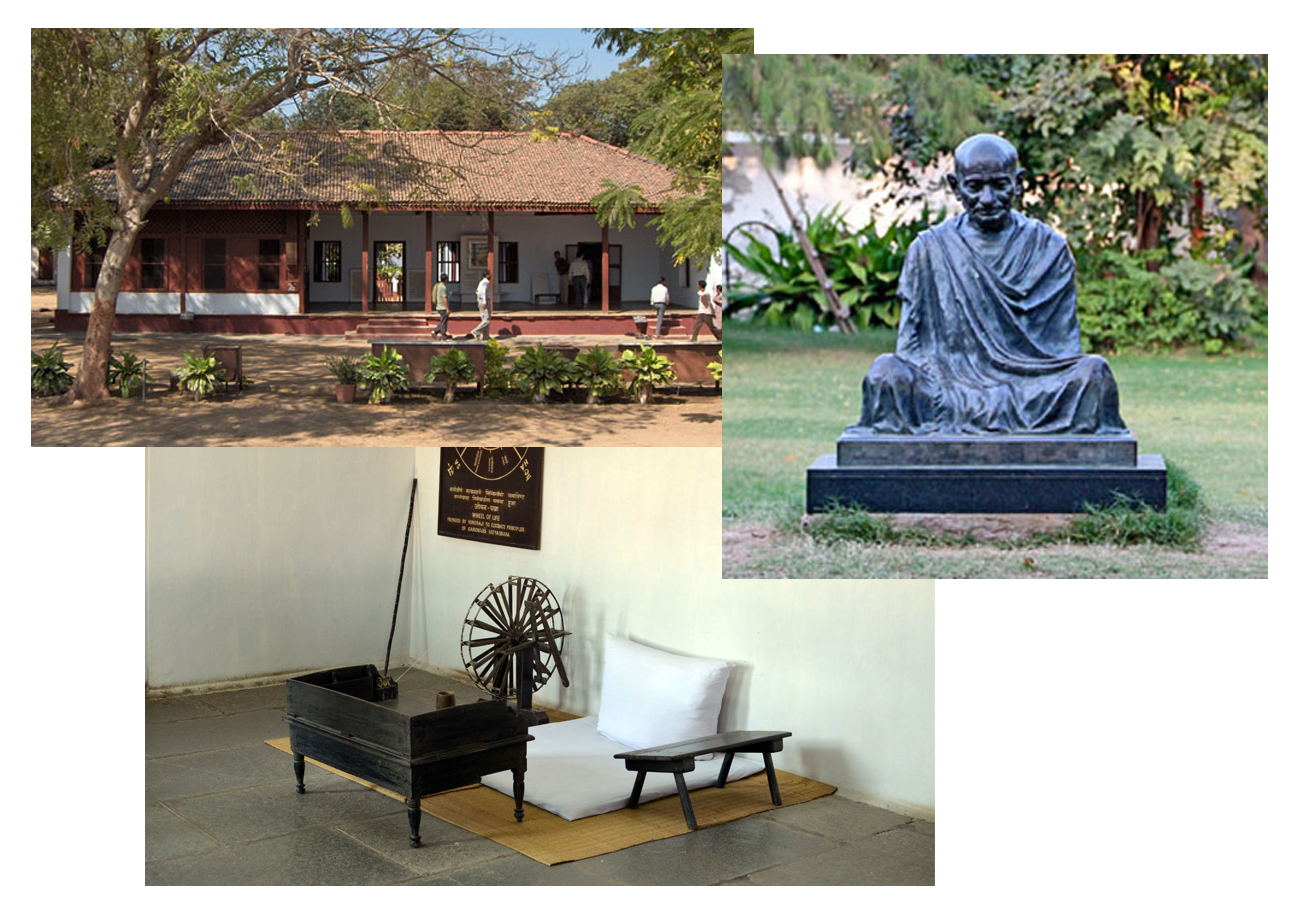 Located on the banks of Sabarmati, this is where Mahatama Gandhi spent 12 years of his life along with his wife. Now converted to a museum, this place is magical and nostalgic and transports you back to a different era. The ashram provides various guided tours free of cost that help you learn more about the place. The Ashram also has a trust that is involved in a number of initiatives such as education, awareness, etc.
Timing: 8:30 to 6:30

Entry: Free
---
Kankaria Lake
Having a history of about 500 years, Kankaria is what defines Ahmedabad – it is the heart and soul of the city. Over hundreds of visitors come here in a day to enjoy the cool lake water and various facilities available. There are activities such as Segway, Hot air balloon, toy train ride, kids city, mirror maze, etc. along with some lip smacking food joints all around.
Open: 9 a.m. to 10 p.m. except on Mondays

Entry fee: INR 10 for adults and INR 5 for children.
---
Sabarmati Riverfront
Developed quite recently, the riverfront is an upcoming tourist destination gaining quick attention. Serene and calm, this place developed on the waterfront of Sabarmati is a wonderful way to spend evenings.
Entry ticket
Motor Boat- Rs. 20 per person

Speed Boat- Rs. 100 per person

Pontoon Boat- Rs. 100 per person

Time: Summer- 11:00-7:30 and  Winter- 11:00-6:30
The place also organizes flower shows in the months of January
---
Adalaj Vav
Located 20 km from Ahmedabad, this historical and architectural marvel definitely needs a visit. It's beautiful carvings and structure will amaze you and impress you. Built in 1499 by Rani Rudabai, in sandstone in the Solanki architectural style, the Adalaj stepwell is five stories deep. It is octagonal at the top, built on an intricately carved large number of pillars. Each floor is spacious enough for people to congregate. It is believed that the temperature inside is 6 degrees cooler than outside.
The entry is free of cost and is open on all days.
---
Sidi Saiyyed Mosque
Built during the Gujrat Sultanate period, this mosque is quite popular in Ahmedabad for its lattice-work and architecture. The mosque remains open all throughout the year and the entry is free of cost. Be sure to cover your head in the premises, they even provide cloth for that in case you don't have any.
---
Where to eat
Gujratis love their food and that is evident from its abundance in Ahmedabad. Try some of the following options:
Try the variety of Kulfis from Asharfi (Rs. 200 for 2 people)
When in Gujrat how can you miss the world famous Khakra and namkeens. Try Induben Khakrawala to satisfy your taste buds. (Prices start from Rs. 80 and can be up to Rs.200)
For all the street food maniacs out there, try Manek Chowk. Very popular amongst the locals, this place is all about food and keeps buzzing till wee hours of the morning.
Non-Vegetarians have options too, try Bhatiyar Gali for lip-smacking meat options.

For a wholesome Gujrati food experience, check out the village themed restaurant, Vishala. They have a widespread of eating options ranging from Gujrati Thalis to Italian dishes. (Rs. 1600 for 2)
Everything else:
How to reachAhmedabad:
There are daily flights and trains leaving from Delhi to Ahmedabad. Flights like Air India and spicejet have daily flights with tickets starting from Rs. 2500 onwards.

Train tickets range from anywhere between Rs.445 to Rs.3000 in the Rajdhani Express.

Buses also take you to Ahmedabad with prices starting from Rs.750.
Hotel Options for Accommodation

Radisson Blu Hotel (Rs.5900 for a night)
Lalji's Hotel (Rs. 1624 per night)
Hotel Royal Highness (Rs.2500 per night)
Hotel Ashish (Rs.1500 per night)
Good For
Ahmedabad is a place where you can relax and enjoy with your whole family. The combination of food, history, and temples make it an excellent place to visit.
Best Time: The best time to visit would be during the winter season as summers are unbearably harsh and dry in here.
Budget – The total budget per person can be anywhere around Rs.6000 – 7000 per person for a 2 nights 3 days trip.